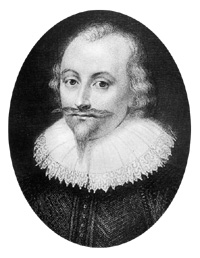 William Shakespeare, the world's literary giant, has inspired so many people by his 154 sonnets,37 plays, and 5 poems. His works influence not only people during the Elizabethan Era, but also the present age. His great tragedies such as Romeo & Juliet have moved people to tears. His famous love sonnets are quoted by so many to express love. Let's find out more about the Bard and spend some time reading his great works!
About the Bard
Shakespeare was born in April 1564 in Stratford-upon-Avon, England. Do you want to know more about his family and his birthplace? What is so special about Stratford-upon-Avon, which is now a famous tourist spot? Take a look at A Shakespeare Timeline and Shakespeare's Stratford on the Web !
Works
Among Shakespeare's plays and sonnets, which one(s) do you like most? Have you read all of his great works? Now, you don't have to pick up a thick book of "complete works of Shakespeare" to read the Bard's pieces. Try the online readings at the World Wide School. If you only want to read the great plays, visit The First Web Folia Edition of Shakespeare's Works .
More
If you have a good appetite for more materials about Shakespeare, browse Shakespeare Online . Here you can find not only the Bard's plays and poems, but also essays and analysis of his works, related books and videos, quizzes and useful web links, and a lot more. Still lots of questions to ask? FAQs at Shakespeare Online and Shakespeare.com may give you some help!
Source
Shakespeare.com,
Shakespeare Online,
Shakespeare's Stratford on the Web,
Mr. William Shakespeare and the Internet .