【e世代.家長童行】系列活動(一)17/10/2015  'Conference for Parent Education on e-Learning' series (1)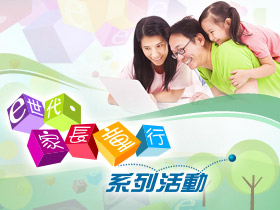 電子學習日漸普及,家長怎樣才能更了解子女的學習情況?有方法能協助子女善用科技增潤學習,又防止他們濫用嗎?若能親身體驗子女的電子課堂,家長必能掌握更多竅門。
於2015/16學年,香港教育城(教城)、教育局及資訊科技教育領袖協會將攜手合辦【e世代.家長童行】系列活動,助家長了解電子學習和網絡安全,掌握實用技巧,以便在身、心方面裝備子女善用電子學習。
第一場活動已於2015年10月17日(星期六)下午舉行,內容包括講座及工作坊,由不同主講嘉賓分享現今學習模式的轉變、對兒童發展及家長角色的影響、以及資訊素養的培養等;還有經驗豐富的前線老師即場示範電子教學課堂。
如欲重溫講座片段,請先以教城戶口登入。
講座重溫
一.從EQ出發:建立學生的自學能力
講者:香港大學社會工作及社會行政學系副教授曾潔雯博士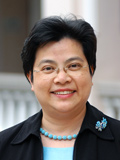 曾潔雯博士太平紳士現任香港大學社會工作及社會行政學系副教授。她是香港及英國心理學會註冊臨床心理學家、香港心理學會院士、香港專業輔導協會院士、及註冊社會工作者。她的研究、著作及媒體發表集中於親職教育、特殊教育、兒童及青少年發展及禁毒教育。她曾獲香港大學最佳教學獎、行政長官社會服務獎狀、及香港兒科醫學會促進兒童健康獎。她現任社會福利諮詢委員會、平等機會委員會、香港護士管理局、公共圖書館諮詢委員會及大律師紀律委員會委員。
二.子女上網,與您何干?
講者:香港小童群益會上網學習支援計劃總監梁永輝先生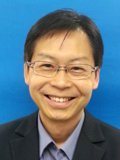 梁先生從事兒童及青少年輔導服務逾二十年,早年主要服務對象為邊緣青少年,及後轉職青少年及家長工作,近年擔任「上網學習支援計劃」之計劃總監,冀以有限之工作經驗作分享,與各位家長反思青少年使用電子媒介所面對之挑戰。
三.電子學習之護眼小貼士
講者:視光學博士羅家建博士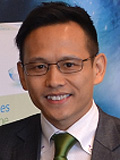 羅家建視光學博士現時為香港博士倫視力保健專業事務經理,負責視力保健產品的創新科技及其應用。羅博士曾於香港理工大學眼科視光學院致力從事控制近視和人類分子遺傳學的研究,並發表了關於遺傳基因多態性與高度近視之間的關聯的論文。
工作坊內容
有效運用電子學習工具促進中文科的學與教
翻轉數學課堂介紹
E世代的通識教育科學習
科學科電子教學
數碼香蕉射球
電腦科 - 使用Nearpod共建知識
如有任何查詢,歡迎致電2624 1000或電郵 info@hkedcity.net 與教城聯絡。
(English Version)
As eLearning has become a widespread trend, can you grasp the new learning paradigm of your children? Are there any ways to help them make good use of information technology to learn, while preventing misuse? Here comes a chance for you to experience eLessons and get all-round tips from experts.
Hong Kong Education City (HKEdCity), The Education Bureau and Association of I.T. Leaders in Education jointly organise a series of activities entitled 'the Conference for Parent Education on e-Learning' in the 2015/16 school year. It aims at strengthening parents' understanding on eLearning and eSafety, and equipping them with practical techniques, so that they can cater their children's physical and psychological health when adopting eLearning.
The first session was held in the afternoon on 17 October 2015 (Saturday), with seminars and workshops. Keynote speakers shared about the change in learning paradigm, children's development, parents' role and information literary, while experienced teachers will offer live demonstrations of eLearning.
Seminar
Developing Students' Self-directed Learning Starting from EQ

Speaker:Dr. Sandra K. M. TSANG, Head, Department of Social Work and Social Administration, The University of Hong Kong
Dr. Sandra Tsang Kit Man, JP, is an Associate Professor of the Department of Social Work and Social Administration of The University of Hong Kong. She is a Registered Clinical Psychologist, a Fellow of the Hong Kong Psychological Society and the Hong Kong Professional Counselling Association, and a Registered Social Worker. Her research, publications and media profile focus on parent education, children with special educational needs, children and youth development and drug prevention. She was awarded the HKU Teaching Fellowship for outstanding teaching, the Chief Executive's Commendation for Community Services, and the 2011 Medal of the Hong Kong Pediatrics Society for contributions in Child Health. She is a current member of the Social Welfare Advisory Committee, the Equal Opportunities Commission, the Public Libraries Advisory Committee, the Nursing Council, and the Barrister Disciplinary Tribunal Panel.

Kids Online, Parents Stand Aside?

Speaker:Mr. Thomas LEUNG, Head of Internet Learning Service Programme, The Boys' & Girls' Clubs Association of Hong Kong
Mr. Leung has served for youth and children counselling services for over two decades. He mainly focused on youth at risk service at his early years, then worked for adolescents and parents. Now as the Head of Internet Learning Service Programme, Mr. Leung hopes to share his experience with parents to think deeply on the challenges facing the youth of using electronic media.

Tips for Protecting Your Eyes

Speaker: Dr. Tomy LO, Optometry Doctor
Dr. Tomy Lo is an optometry doctor and holds the position of Professional Affairs Manager of Bausch + Lomb Vision Care. He is responsible for the innovative technology development and the application of vision care products. Dr. Lo has devoted to the myopia genetics research in the School of Optometry of the Hong Kong Polytechnic University and had paper publication on the association of gene polymorphism with high myopia.
Workshop
Effective Use of eLearning Tools to Facilitate Learning and Teaching in Chinese

Speaker:Representatives from Confucian Tai Shing Ho Kwok Pui Chun College

Introduction to Flipping Maths Lesson

Speaker:Representatives from True Light Middle School of Hong Kong

eLearning in Liberal Studies

Speaker:Representatives from Christian Alliance S W Chan Memorial College

eLearning in Integrated Science

Speaker:Representatives from True Light Middle School of Hong Kong

eLearning in P.E.

Speaker:Representatives from Lions Clubs International Ho Tak Sum Primary School

Computer - Collaborative Learning with Nearpod

Representatives from TWGHs Lui Yun Choy Memorial College

Should you have any enquiries, please contact HKEdCity at 2624 1000 or email us at info@hkedcity.net .